Last Sunday, we all satu family pergi Melaka. Kira cam small gatheringlah. Actually Kheirul's gathering. Kiterang follow jer. Lepak sampai petang pusing-pusing tgk peninggalan sejarah kat Melaka.
But my kids tak kisah semua tuh. bukannye dorang appreciate dengan architecture and history. yang dorang excited sangat is beca.
Bising mulut, I want to ride beca. Nah finally, I bawak dorang naik beca while Kheirul busy with work.
Ha ni bukti gambar kiterang naik beca.. pakcik beca bawak beca laju giler….Ashraff cam marah sbb dia dah tak sabar naik beca tapi pakcik tu amik gambar dulu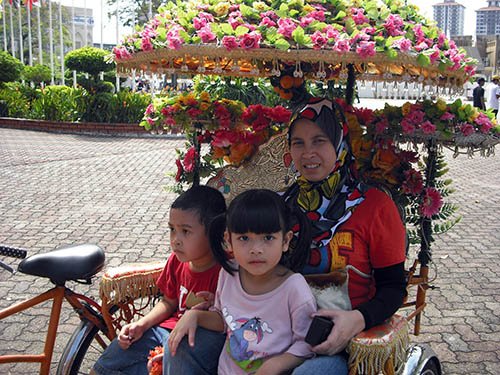 Pastu atas beca bukan main tersengih lagi dia… pakcik tu bawak pusing dalam 15 minut jer… harga dia dalam RM 15. Ok lah dia akan stop untuk bergambar semua. Setiap tempat dia lalu dia akan explain apa nama tempat, apa jadi kat sini. tapi budak-budak ni mana kisah semua tuh…Lepas abis naik beca dia pun citer kat sekolah cikgu ada ajar macam mana nak spell beca.. pot pet pot pet la dorang pas tu…
Petang dalam kul 4 nak balik… dalam keter boleh lagi request naik beca… next time jelah anak-anak, mama tak larat panas sgt kat sana