Hi You all …
Apa khabar hari ni… today is Friday, tommorrow will be Saturday.
Today, I nak buat review pasal makan makan kat Langkawi.
Langkawi Fish Farm Restaurant.
FYI, kat restoran ni, kalau pi sana, you all boleh mancing aka mengail ikan. pas mancing boleh pass kat chef kat dapur suruh dia masak, nak masak apa refer kat menu.Cam mana nak pi, tengok dalam peta…tak sesat nye sbb pusing pusing kat situ jugak
But we all satu family no pancing pancing, lapar sesangat tak leh tunggu . sesapa yang interested nak mancing, aktiviti memancing start from 11am till 6pm.
berapa kena bayo I tak tahu, lupe nak tanya.
So masa kiterang pi jamu selera kat sana… ni lah lauk yang kiterang makan
Siakap Kukus aka Steames Seabass -Cantonese Style
Kalau tanya berapa bintang, I kasi 3 bintang from 5 bintang sbb rasa dia very light, maybe sbb cantonese style. but ikan tu mmg maveles la dengan kefreshan dia. apa tak nye kiterang pi tangkap dlm akuarium dia.
For steam menu, ada byk syle, Thai style, hot and spicy and bla bla but we choose cantonese style because our kiddos tak makan pedas. kalau termakan pedas confirm kena panggil bomba.The cantonese style, dia masak with light soya sauce, ginger and garlic. Tapi i rasa I masak lagi sedap la.
hihi perasan plak I ni kan
Sotong Goreng tepung
MUST HAVE menu sbb feveret. sedap, cicah ngan thai sauce
Sweet Sour Crab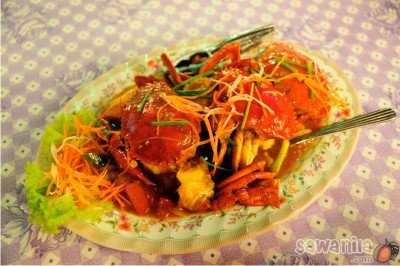 This sweet sour crab tak macam yang I masak la… of course sedap yang I masak ok… The sweet sour is light taste. But I tak kisah sbb ketam punya pasal and very fresh, apa tak nye kiterang tangkap dalam akuarium. Tapi kalau dia lebihkan ginger lagi sedap
Kailan Ikan Masin
Biasa je… very crunchy and the ikan masin mmg terasa.. We all like lagipun kterang satu family spesis suka makan sayur.
Total price is, RM150++ inc 4 watermelon jus yang pekat, 4 pinggan nasi and appetiser. Kat situ ada jugak lobster, but not ordered it. Rege dia dalam 50-100 sekilo.Tapi kepuasan makan bersama keluarga is priceless… tengok la muka kiterang tgk makanan!!
BLURRR beb
So sesapa yang nak pi Langkawi boleh la pi mancing kat sana…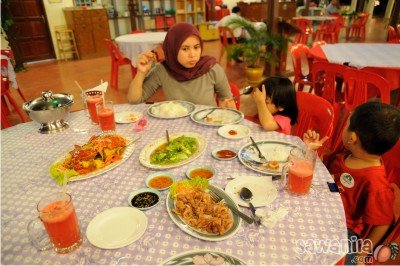 Dan seperti biasa, markah dari kami