On the 16th Ramadhan (Tuesday) we had a special dish called Udang Masak Merah. Huh… it was so damn good but I can't eat this kind of food a lot if not my cholesterol will go to the sky.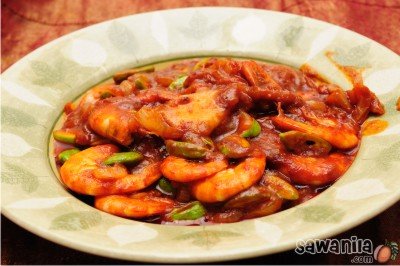 On the 17th of Ramadhan, it was a cuti for me and we went to Kelana Jaya and have a look at the Pasar Ramadhan there. We bought Murtabak Raja and Tepung Pelita. At first, we tought the RM10 for a murtabak is not worth but once we taste the murtabak… IT WAS THE BEST MURTABAK THAT WE HAVE TRIED SO FAR…..
Others, once came back from Kelana Jaya, mama cooked Kerang Rebus, ikan siakap steam and vegie….. can't tell you how full am I yesterday…… then I went to surau for Solat Tarawih…..